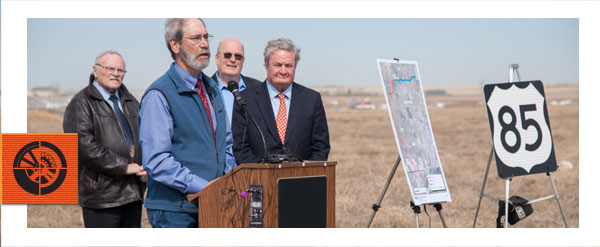 US Highway 85 Press Conference
Project Description
NDDOT had many planned improvements to US 85 slated for completion in 2014, which included approximately 33 miles of US 85 roadway during the construction season. Plans for US 85 included construction of additional driving lanes and a twenty foot median, to create a four-lane highway from Watford City to Williston. These four lanes will allow more free-flowing traffic with the addition of turn lanes to the roadway.  Upon completion, four lanes of roadway will be open to motorists along US 85 between Watford City and the junction of US 2 near Williston.
The design for the new four-lane for US 85 as two lanes on either side with a paved median in between is based upon the need for frequent turns from US 85 onto other roadways. A concrete median would not support the need for traffic flow on the stretch from Watford City to Williston, so the paved median design was the safest and most effective solution.
The first phase of the project, which included the section of US 85 from Watford City to north of Alexander, was completed in August 2014. Trucks and motorists are currently traveling on this expanded four lane roadway. As of October 28, 2014, the next completed section of the second phase of the four-lane project is also open to traffic.
The second phase of the project began on the section between County Road 16 and Williston in late summer 2014. The necessary environmental clearance has been received for construction and this second phase includes the replacement of the existing Lewis and Clark bridge over the Missouri River near Williston. This project will continue into the 2015 construction season.
Current Project Status
Work will continue north of Alexander to Williston during the 2015 construction season
Bridge replacement work for the Lewis and Clark bridge will begin in 2015
The remainder of the project from north of Alexander to Williston is expected to be completed in 2016
For more information on the phases and location of the US 85 project, please review the map of the project below. Motorists can also learn more about other projects in our FAQ section of the website.
> US Hwy85 four lane project design
Map