Project Description
The Williston Truck Reliever Route project provides a route that eases truck traffic, taking trucks around the western edge of Williston and south to US 85 now that two lanes have been completed. This 13-mile project will improve traffic flow through Williston and areas west of the city and will help meet the forecasted traffic demand for the area.
The initial phase of the project included construction of a truck reliever route north of US 2 in Williston, providing a route that facilitates the next phases of the project and eases congestion. Work on the north portion of the intersection continued until November as crews completed the initial two lanes of the reliever route. Traffic re-opened at the intersection of US 2 and US 85 after some temporary closures were necessary to complete the project.
The second phase of the Williston Truck Reliever Route project will create the northwest portion of the project.  Motorists are now traveling on the two lanes of the completed truck reliever route, which directs traffic west of Williston and connects motorists with the current US 85 and US 2 intersection four miles west of the city. Completion of the full truck reliever route, creating a four-lane highway, is slated for the 2015 construction season.  Phase 2 and 3 will be complete in 2015. Since construction of the two lanes of the reliever route was completed this summer, speeds in the area have been returned to 45mph.
Current Project Status
As of October 14, 2015, four lanes of roadway on the Williston Northwest Permanent Truck Reliever Route are open to traffic and the project is complete.
For more information on the phases of the Williston Truck Reliever Route project and to view the completed first phase of the project, we encourage you to review the maps of the project below.
Potential Williston Northeast TRR Alternatives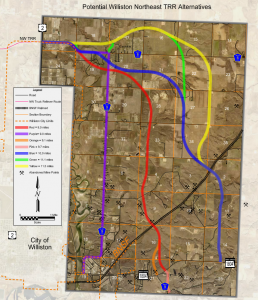 Map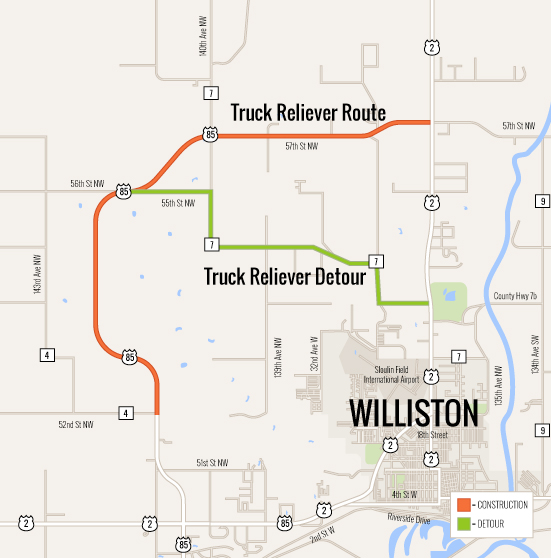 Phase 1-3 Map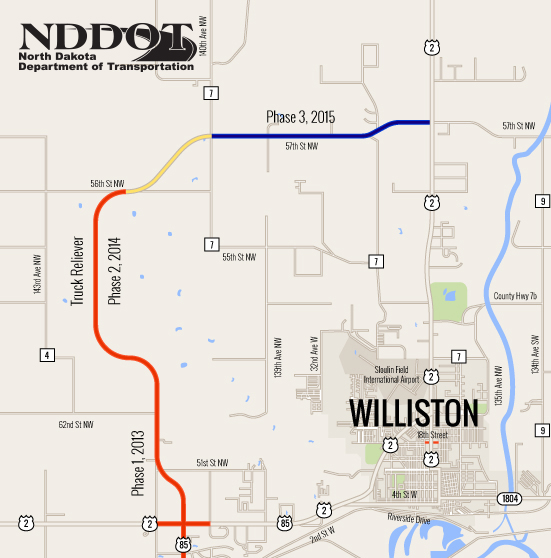 Photos